Country music star Bucky Covington is slated to host the 2015 AMG Heritage Awards scheduled to take place November 14th in Monroe, North Carolina at the AG Convention Center. Last year's show was hosted by fellow country music star Billy Gilman and famed puppet Lamb Chop.
Covington will be in great company this year as the show ushers in some of the most iconic performers of our time. There are scheduled performances by, Martha Reeves and the Vandellas (Dancing in the Street), Dee Dee Sharp (Mash Potato Time), Billy Paul (Mrs. Jones), Melanie Safka (Brand New Key), Chubby Checker (The Twist), David and the Giants (Riders in the Sky), David L Cook (Drop That Rock), Mallory Lewis & Lamb Chop, Mike Manuel (Got My Name in the Big Book) plus many, many more.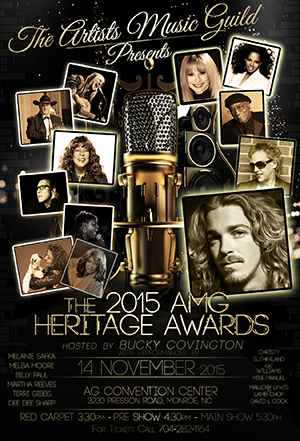 Check out Bucky's 2014 CMA Fest Schedule!
Thursday, June 5, 2014 – Wildhorse Saloon – Presented by Renegade Radio
Saturday, Jun 7, 2014 – FAN CLUB PARTY at The Rudder at Anchor High Marina (7 PM – Free. Open to the Public. Arrive Early for Preferred Seating.)
Sunday, June 8, 2014 – Bud Light Stage at Bridgestone Arena